Summer
With our third aircraft of the season approaching the station as I write this, summer at Halley is really starting to get going – along with much improved weather and, as of this week, 24 hour sun.
Some of the new wintering team have already arrived to start working on projects over the summer as well as some Cambridge based staff who provide the long term continuity. The biggest change however, is that we have lost the first member of our wintering team. After an eventful summer last year, we found ourselves without a doctor and James was good enough to stay on for a second winter with the assurance of getting home as soon as possible afterwards. We are all extremely grateful he was willing to stay on.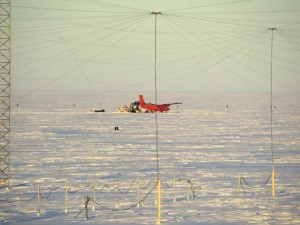 The previous aircraft was the first to bring post; mostly philatelic mail, a surprising amount of post intended for other (not even British) stations and what seemed like half the mailbag was for me! This was a pleasant surprise and I enjoyed reading through the various letters and cards.
When the first Twin Otter arrived, the air unit wanted photographs of the skiway at Halley. This meant the aircraft needed to fly over the station and was able to take a few passengers, so I got the chance to see the station from a slightly different angle.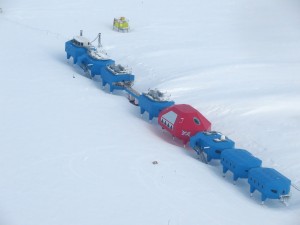 The pace of work on station has already started increasing, not just my usual science related work but also helping out with other jobs; raising drum lines, laying out the skiway, digging out vehicles and anything else that comes up.
From experience last year, and knowing the work planned, this is going to be a very busy, hectic and often tiring season but should also be lot of fun.