Sunrise!
Sunrise might seem like a rather normal affair back in the UK, but for the thirteen of us at Halley it was a much anticipated event as we have not seen the sun for over 100 days (sunset was 1st May.)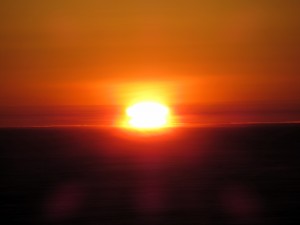 While the days have been getting brighter, and it really thought about it yesterday, the disk of the sun finally popped up shortly before 13:00 today, much to everyone's delight. While not an unexpected event, it is a major milestone in the wintering calender and promises the return of much warmer (but still sub-zero) days.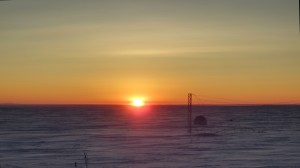 The day is marked by the raising of a new flag over the station by our youngest winterer and a short speech. Short being the preferable term, as the temperature was well below -40, although fortunately it wasn't windy (which made for an inanimate flag, but warmer people!) We were lucky it was a clear day so we could see the sun, although there was some low cloud and patches of mist, which diffused the sun's disk creating some interesting effects and photographs.