Midwinter
Midwinters day (21st June) is a big event in Antarctica, as it is the point at which the sun starts to return (although won't rise for us until August). It has been celebrated ever since the earliest days of explorers wintering and is celebrated by all nationalities. A tradition that has arisen since stations started becoming internet connected is to send an electronic greeting, usually a photograph of the wintering team and messages of goodwill. These are printed out and displayed on the wall much like one might display Christmas cards back home.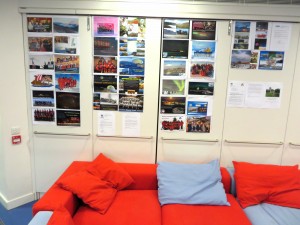 The first BAS tradition of the day is for the Base Commander to cook everyone breakfast, which may be taken in bed if desired; nobody opted for that this year mainly because people felt it would be more social to eat together. We really lucked out here because John has previously wintered as a chef and is therefore very good at cooking. After this we headed upstairs to the TV room for the traditional screening of "The Thing", which myself and at least one or two others had deliberately not watched since getting the job in anticipation of this event. It was quite a good film and I was surprised how accurately some parts of Antarctic life were portrayed; although, there were a lot of inaccuracies too!
After the film, we all went and donned our formal wear in anticipation of one of the largest parts of the day – lunch. We met in the bar where Gerard served us canapes and we all pulled our home made crackers (not a tradition this, but good fun; we had all pulled one name from a had and made a cracker – gift, hat and joke  – for someone else.) Then we headed to the dining table for the first of about nine courses.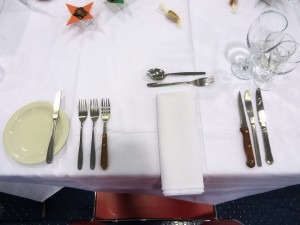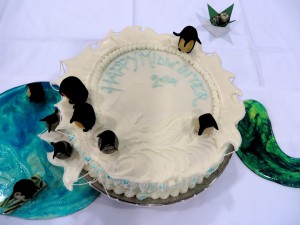 The meal took a total of about six hours, including two breaks. The first was for the Midwinter gift giving; names were drawn out of a hat for the order to present the gifts, which were of a very high quality. The second break was to raffle off the Union Flag that had been flying on the station from sun up 2013 to sun down 2014 (again a name from a hat); this was won by Anton.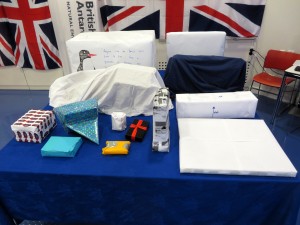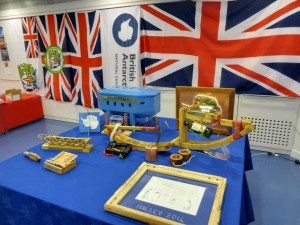 After dinner, we retreated to the Comms office and huddled around the HF radio to listen to the BBC World Service Midwinter Broadcast which was as 21:30 local time (UTC). This contains messages from family and friends at home, as well as some messages from famous people and the BAS director. Unfortunately there was a lot of fading on the signal and parts were not audible, however Kevin had been able to download an MP3 of the broadcast from the BBC earlier in the day and we were able to listen to it again more clearly. It might seem strange to try to listen to the broadcast when we had access to a higher quality version, but there is a certain charm to listening how they would have back when the radio was the only contact they had with the outside world.
The day concluded with everyone feeling very full and playing various card, darts and pool games in the bar as we all wound down before drifting off to bed.