Winter begins
It's been a while since I last write a post, as life at Halley has moved on to the Winter routine which is of a much slower pace than during the summer.
On the 1st May we had the flag down ceremony as that was the last day the sun rose above the horizon before Midwinter; there is still a slight red tinge to the horizon at around midday, allowing you to see outside well enough to walk, but with slightly over three weeks until 21st June it won't be long until it is completely dark all day. The ceremony included a speech by the eldest member of the wintering team, and was accompanied by a barbecue – like the best British barbecues everyone was huddled inside by the end, albeit avoiding the cold rather than rain!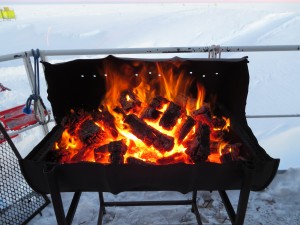 There is much activity on the station preparing for Midwinters week. Activities are being planned, food is being prepared and the traditional Midwinters gifts are being made wherever a tool can be wielded. Midwinters week is the closest we get to a week off, with work being limited to essential jobs with tasks such as cooking, meteorological work and gash duties being allocated to volunteers.
While our biggest festivities are yet to come, the social scene on base is well established with regular Saturday night events, ranging from takeaway pizza's to pool tournaments, fancy dress and funfair games. During the week the evenings are usually quieter, with card games, board games and film nights being popular.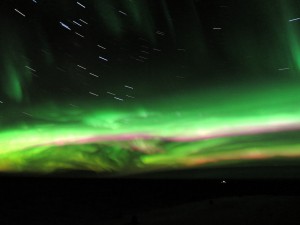 One of the best parts of wintering at Halley is the spectacular Aurora we are treated to. With the right weather (within and without the atmosphere!) we have seen some spectacular displays of this phenomenon. My camera isn't the best at photographing it, however I have found that by layering a number of photographs fairly impressive images can be produced. Even so it is impossible to capture the event fully in a photograph; it really does have to be seen.