Winter Trip
Last week was my first winter trip, with Al and 'Silver' (John M.). This trip was five days (four nights) long and we stayed at a place called Aladdin's, named after a cave that had been located there. The weather was generally very good all week, with temperatures between -25°C to -30°C and little wind.
On Monday we left the station, drove to the camp site and set up camp. As we were able to get away fairly early, we were all done by about 2pm and decided to have a walk around the large wind scoop in Aladdin's.

The highlight of our week came on Tuesday. We started out by driving to a location known as Stony Berg. This is an iceberg embedded in the ice shelf that is covered in stones and rocks, presumably from having scraped along the continent's surface before being turned up as it reached the edge.
We then drove further south, to a small cave seen by Kevin and Richard on their trip two weeks previously, but had not been able to get to it as the area is covered in slots and crevasses. Al brought some long ropes and we were able to get to the cave mouth by abseiling diagonally down a slope, and then enter the cave by abseiling a bit more. None of us were prepared for what we found – it was an amazing chasm which was absolutely huge. The main chamber was around 20m high, with some amazing blue colours; when you looked out of the cave mouth the sky looked slightly purple compared to the ice surrounding it. There was also what looked like a frozen river running along one side.
There was another space to the back, which had shafts of light from holes in the ceiling and some incredibly fragile ice formations. They looked like they had been icicles which had grown from hoar frost formation rather than dripping water, so they were almost hair like in structure.
The third area was to the front, which featured a lower ceiling with icicles and more of the frost formations. There was a lot of debris in this part from collapsing snow, reminding us that this whole chasm could come down at any time and that we are probably the only people that will ever get to see it.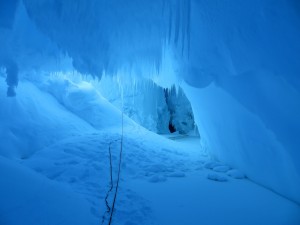 On Wednesday we had a more relaxed day, all being exhausted from the day before. We again went into Aladdin's, this time climbing up the other side to a crack Al had found on the first trip with Mike and Octavian, which we abseiled into. This was quite a narrow crevasse which helped in someways – you could lean your back against one wall and feet on the other, making it a friendly crevasse for beginners – but I found it awkward when jumaring out as there was not a lot of leg room for pushing oneself up and resorted to more of a climb with the jumars as a backup. Unfortunately, the contrast was not particularly good and a light snow shower wiped out most of what contrast remained, so we headed back to camp rather than explore further afield.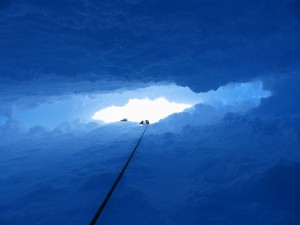 The weather was much improved on Thursday and we all felt more energetic so we set out to find somewhere to do some ice climbing. The location we found was not as steep as it had looked from a distance however, so while we did some climbing it was not as challenging as it could have been. We then proceeded to walk around Aladdin's, which allowed for some excellent scenery, me finding a new crevasse with my foot (I only went knee deep and it is why we travel roped together) and was generally rather tiring – you don't do much hill waling at Halley, so the undulations around Aladdin's were quite an effort to traverse!
We broke camp early on Friday morning, again with excellent weather, and were able to make good time driving back thanks to the excellent contrast and relatively smooth snow. We stopped on the way back at a large crevasse known as Gatekeeper, which we drive over on a snow bridge that forms, and abseiled into it using the Ski-Doo's as an anchor. This is a very wide crevasse, although last year it was apparently only a couple of meters across, showing how much the landscape can and does change in a relatively short time span.