Just another day in the office
Last week we spent two days doing our field training. This involves leaving the station for a night and learning how to live in tents in Antarctica. This training is required for all winterer's, both for supporting field parties in the summer months and as an emergency survival option (e.g. if an aircraft cannot reach it's destination due to poor weather, it may have to land  in the middle of nowhere until it can proceed.)
Being in such a remote and unique landscape makes camping more complicated than back home in the UK. We use pyramid tents made of very tightly woven cotton, which makes them wind proof, and have to do as much as possible in tents to keep out of the weather.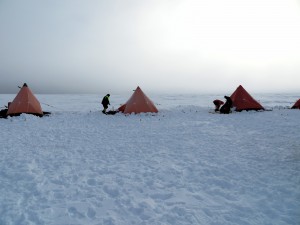 We left Halley after lunch on Tuesday, two people on Ski-Doo's and the rest of us in a SnoCat. It took about two hours to reach Creek 3 on the SnoCat, where we learnt how to set up camp, made ourselves dinner (my tent had Pate on Biscuit Browns for starter, and 'Man Food' for the main – to get us used to the (remarkably good) field rations), had a sked with the base to demonstrate field communications and then roped up and had a short walk down to the sea ice.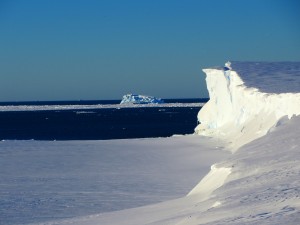 After another round of hot drinks we filled our water bottles with water, which are then kept inside the really thick sleeping bag with us to stop them freezing overnight. This gives us instant water in the morning, rather than having to melt some to have a drink; although we did prepare a pan full of snow just before going to sleep so we could just light the Primus stove and start melting without leaving our sleeping bags!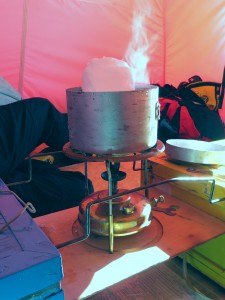 In the morning we struck camp and learnt how to pack up the tents and field sledges, before practising more rope work and crevasse rescues. Rather than throw someone down a crevasse, we just kept tension on the rope to simulate someone hanging. We then headed back to base at about midday – myself and Al on Ski-Doo's this time and the others in the SnoCat. The sastrugi was rather solid which made it a very bumpy drive, but it was good to practice pulling the field Nansen sledge on a Ski-Doo. The main thing to remember is that, as the sled is attached with a rope, you need to slow down gradually so it is stopped by friction rather than the back of the 'Doo!